Both

Sagittarians

& born a day apart……we love nothing better, than to travel :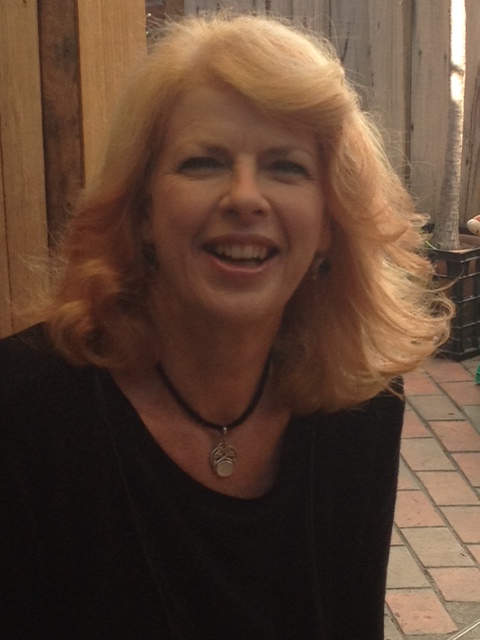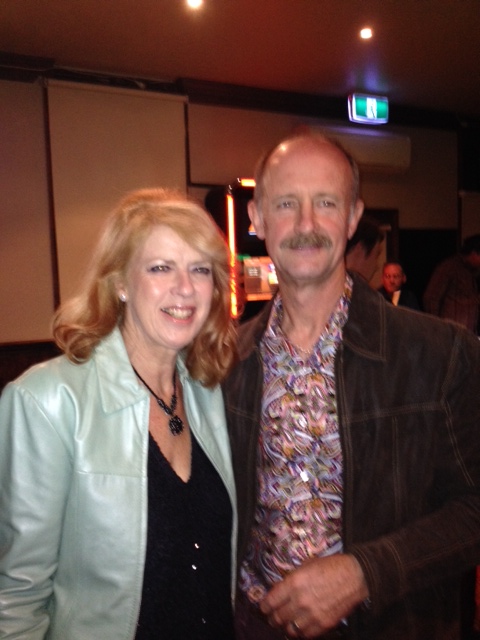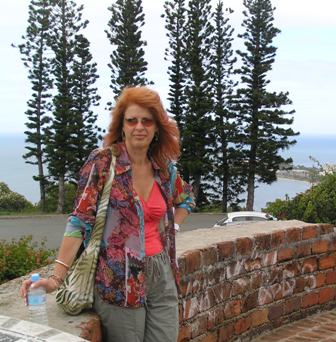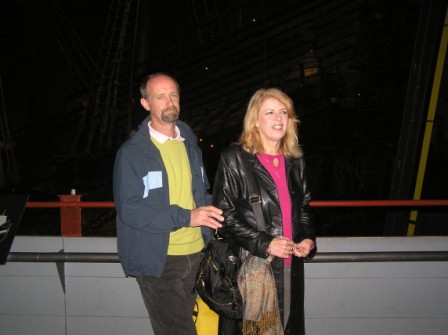 In Sweden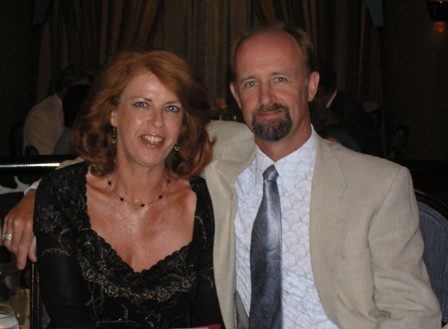 Cruising in the Islands
Leigh and Anne-Marie photo taken whilst judging and holidaying in New Zealand in 2006.
We have had nearly a lifetime with these beautiful dogs. After purchasing a pet to raise with our two young daughters in 1973 we became hooked on the breed and started an infatuation that is still continuing today.

We first started in Irish Setters in 1973, with the aquisition of a puppy bitch with Raycroft (UK) lines. We showed fairly consistently & successfully until in 1981 we were given our foundation bitch, Aust Ch Taraglen Opus One. "Bracken" who was the very successful product of the Parrlyn/ Tatlow combinations."Bracken" was bred to Aust & NZ Ch Eireannmada Montana who also was the result of local lines with the infusion of English & South African stock . Aust Ch Pendoric Pulsar, Aust Ch Pendoric Purdy, and Aust Ch Pendoric Palladin were the result.
 These Irish were all Specialty winners & went on to produce likewise, w
e then bred

Aust Ch Taraglen Flair

(herself a combination of Taraglen with a Fondador (UK) bitch, to

NZ & Aust Ch Ballymoss O' Dougal ,
Pendoric Prim N' Proper

was then bred to

Eireannmada Wells Fargo

(A Montana son with an American dam, Charltons Marigold Imp USA).Two very typey brothers came from this mating with

Aust Ch Pendoric Izy For Real

being a consistant Specialty winner and his brother,

Aust & Indian Ch Pendoric Parade

"Raider" winning DCC & BOB at the 1987 Royal Melbourne Show (Australia's largest All Breeds Show). "Raider" was sold to India in the later 1980's where he was Top Show Dog for 3 consecutive years. Pendoric is the only Irish Setter breeder  that has won the "Hindu" Trophy for Dog of the Year, with two different dogs. The second dog being

Australian, Indian, Brazilian Grand, Mexican, PanAmerican, International,

Argentinian, Uraguay, American & Canadian  Champion:  Pendoric Perfect Thyming (Alex)
"We are one of three breeders to have won the award twice.
Simultaneously we had produced another bitch from Aust & NZ Ch Ballymoss O'Dougal to Aust Ch Pendoric Purdy to start another prefix "MARIGOLD" in combination with Greg Browne as a tribute to Charltons Marigold who was tragically lost in a house fire with her second litter at foot.
   Marigold Aphrodite was then bred to Quailmoor Defiance to produce the very successful brother/ sister combination of Aust & NZ Ch Marigold Mad About Men ( the youngest Irish Setter to win BCC at the Royal  Melbourne Show since 1948) & Aust Ch Marigold By the Way "Byron" who was top dog in South Australia for many years, & he became the foundation dog for Bernie & Peter Martin (Martinridge kennels).
Many Champions followed, with some going to New Zealand, Hawaii, India and throughout Australia, to join the breeding program of many good breeders.
   In 1992 we imported frozen semen from the USA from the Meadowlarks lines. American Ch Meadowlarks Fire N' Rain "Rory" was also a National Specialty winner going Best of Winners in 1991. The semen from this lovely dog , we put to Eireannmada Red Echo (a Ch Pendoric Pulsar & Ch Pendoric Izy For Real granddaughter).
 Aust Grand Ch Pendoric Fire N' Ice (AI) "Aurora" – the 1st Irish Setter bitch to be awarded the title of Grand Champion in Australia & Aust Ch Pendoric Pandemonium (AI) "Damon" were the result. This brother/sister team were titled at 18mths of age, both won Irish Setter Specialties, Best in Shows at All Breeds Shows & between them won over 12 Royal Challenge CC's & 5 RCC's at our Royal Shows with "Damon" being Best In Group at Launceston Royal in 1997.
Both dogs were the Irish Setter Club of Vict Top Dog & Bitch for 1995-1996-1997 + "Aurora won Top Bitch again in 1998.
    The semen was also put to one of our Marigold bitches,

Marigold Elusive Quest

to produce

Aust Ch Pendoric Annie Laurie

(AI) also a multi Royal Bitch CC winner.
The past years have seen the very successful litters from "

Aurora" Aust Grand Ch Pendoric Fire N'Ice ( AI)

  to Aust Grand Ch Eireannmada At Harvard,  & her mother Echo to  Aust Grand Ch Eireannmada At Tulane, to produce

Chs Pendoric Preacher Man,

 

Critics Choice

, 

Echos Encore

,

Harts Of Fire

,  and many more. The two dogs At Harvard & At Tulane being litter brothers. Two litters from

Aust Grand Ch Tulane Fiery Thyme  "Dillon"

to

"Fire N'Ice " Aurora,

 have produced the Aust Ch/Indian/Brazilian/Mexican/International & Argentinian,Paraguay,Uraguay, American & Canadian  Champion "

Alex"
Pendoric Perfect Thyming 

a Melbourne Royal CC, multi BIS All Breeds & Specialty winner.
Ch Pendoric Fire AnyThyme "Carina" BISS  & multiple Royal BCC winner, also dual winner of ISC of Victoria Bitch of the Year award.
American & Canadian Ch Pendoric Reign Of Fire "Kyle"

, 
 American Ch Pendoric Time Afterthyme "Libby", 
Ch Pendoric Prime Thyme ,"Tammy"

(Israeli & Int Ch )
"Alex" while he was in Australia  has  produced some fine youngsters both for us & other prominent Irish Setter breeders.
20

 being titled to date & for " Pendoric " the most prominent at the moment being, 
Aust  Supreme / Grand & NZ Ch Setterlands Tamburello At Pendoric
(Imp NZ

)"Foggy"
 Aust Grand

Ch Pendoric Perfect Angel

"Libby"&

her litter sister
Ch Pendoric Red Angel "Ruby" and 
Maltese Ch Pendoric ShadesOf Echo " Echo ".
       

Foggy

was Top Irish Setter In Australia (2007 Dogzonline Pt Score) & Top Irish Setter  In Victoria (2008 DOL pt score) &  again in 2009 Top Irish In Australia (both systems) & in 2010 Top Irish Setter BOB Australia & The Irish Setter Club Top Dog award  (2010 & 2011) & Libby is an "In Show" Best in Group & Specialty winner & was Top Irish Setter Bitch for 2010 & 2011 (ISCV ) Sadly both passed now, but they  earned  a fabulous retirement winning when & where it counted !
We have now International  progeny in the ring (Sweden, Russia, Ukraine, Greece, Israel ) dogs that are products of their heritage who are displaying such outstanding characteristics of the breed which is reflected in their show results world wide.
Leigh is now in the ring currently, 2021  showing an "Alex" son  "NICO" who was sired by Frozen semen to one of Diane Andersons (EIREAN ) lovely bitches "Sonnet"  
Australian, Indian, Brazilian Grand, Mexican, Pan American, International,
Argentinian, Uraguay, American & Canadian  Champion:  Pendoric Perfect Thyming (Alex)